"BREAKING NEWS!"
I have been submitting for the fall outdoor art show season here in Central Florida (that gets expensive in a hurry - BUT WORTH IT) and the jury process seems really leasurly to me.
I have a new tent and a completely new booth setting.
I have NUMEROUS new pieces to show when the season kicks off and I'll be working on many more throughout the season. Some are pictured but I am holding the images back till after the first few shows. I would like the first views to be by potential clients who will be able to fully appreciate them, not just visually, but tactilly as well.
SO FAR I have the folloing Show Bookings:
New Smyrna Florida's 38th Annual, IMAGES: A Festival of the Arts January 24, 25 & 26 has selected me and my work to participate in their show!
New Smyrna Florida's 52nd Annual Art Fiesta February 15-16, 2014 NSB draws a HUGE variety of high quality artists and a large collection of serious collectors
(tentative) 2014 Port Orange Artfest Saturday & Sunday April 26 & 27
St Johns River Festival of the Arts in Historic Downtown Sanford, FL Saturday & Sunday May 3 & 4
In addition to showing my work I will also be demonstrating numerous small projects over the weekend.
Port Orange Artfest 2014
2014 Port Orange Art Fest
I'll update more as I hear back from other shows. I'm hoping to have an unprecidented season with work to match!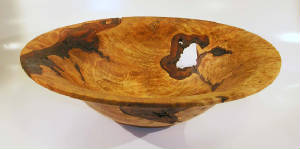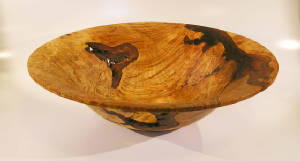 In the Port Orange Florida Private Art Collection
This hard maple burl bowl was one of my favorite pieces, it sat in our breakfromt for months. At the Port Orange show, they selected it for judging with another of my pieces (neither won an award), and they asked if they could buy this piece for their Art Collection.

Welcome!
I am STILL "on the verge" of becoming a full time studio turner, in that my primary living is still made selling Antiques. I have relocated to Ormond Beach Florida, so I'm one step closer to turning full time!

I have many years worth of "ideas" and concepts that are waiting to be tried. Including all of the classic forms. I use the work of others as a springboard, and while I have no formal training in the arts, I look at the work of others for inspiration. My intention is to compliment their work, not by replicating it, but by personalizing it, changing that one thing that will make it my own.
In the past, I have done lots of different things with my hands but find the most pleasure in turning wood.
Artist's Statement:
The true joy of life is said to be the journey, not the destination...
To that end, woodturning is the most interesting - Joyful leg of my journey to date. There is something elegant and friendly about the look and feel of wood. True beauty can be drawn from even damaged, compromised materials. I enjoy the whole process, finding and selecting materials, applying ideas that best show the materials and to their best advantage, thinking about ways to use the same materials we all use, but to a different result.
"Good Art" in woodturning is more than just a pleasing shape, a good finish, skillful application and interesting materials. The art, for me, is also in doing those things with joy. To find those forms that best represent the combination of materials and inspiration. Art is often said to "speak to" the observer, to draw them in, to invite them to experience what the art is, what it represents, and even to speak for the artisan. I hope you can "hear" my work.
I hope you enjoy the site.